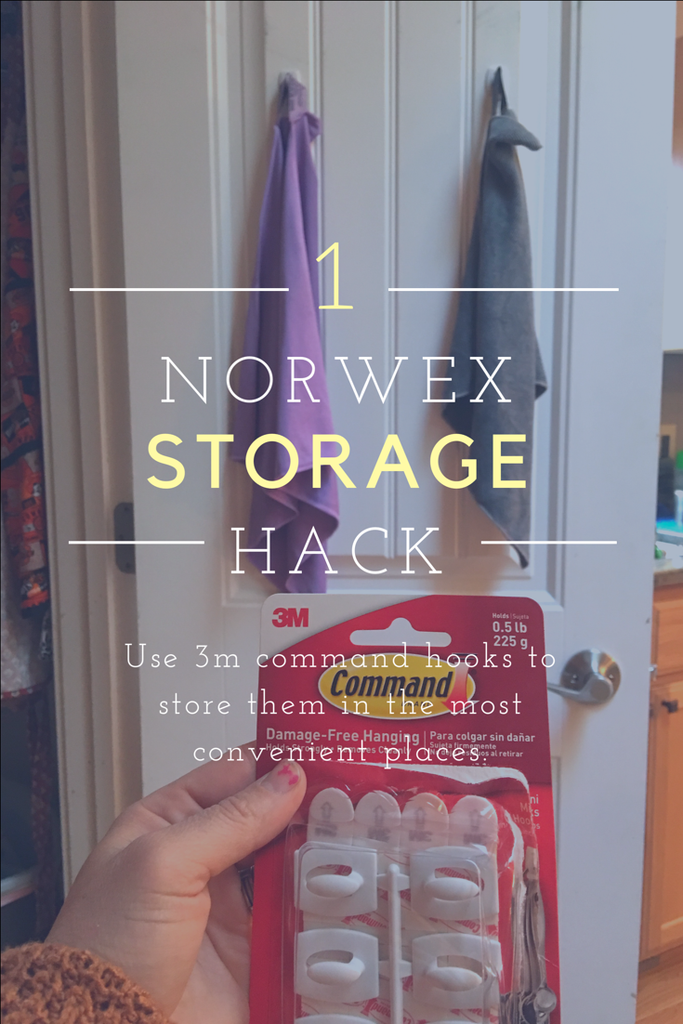 I added Norwex to my life, and here's how I store it.
This post has absolutely nothing to do with @NorthIdahoMade, but if I'm gonna blog, I have to start somewhere.  So I'm starting with a mom-tip.  A house-tip.  A cleaning-tip.  Cheers to my very first blog post.

I was introduced to Norwex cleaning products a couple years ago but didn't buy.  TBH I'm cheap and pretty good at saying no to buying anything that isn't food, diapers, or electricity.  However, the thought never left my mind all this time later that I really did like the idea of cleaning with just water, and the silver-lined cloths that sanitize themselves?  Yes please.

So after secretly obsessing over this for over a year, I finally bought a few items from the line.  I'm so excited to just walk around cleaning my house with a couple of magical cloths, but the key ingredient in keeping them fresh is to hang them to dry between uses.  I've been agonizing about ways to do this for a week, searched Pinterest without finding my perfect solution, and finally came to my answer.  Command hooks.
I knew I wanted my cloths to be within easy reach at any moment for this process to work.  I didn't want them to be way over in my laundry room because heaven forbid I walk across the house when I need a cleaning cloth.
You don't need large command hooks. They come in all shapes and sizes but I got the smallest ones available that hold up to .5 lb.  You can get a pack of six at Walmart for $2.38.
Full disclosure, I wasn't thinking when I mounted the first hooks under the sink.  Consider how high/low you mount them because some cloths are big and will drop down past your door.  I ended up mounting another hook higher than the rest so I could store my kitchen scrubber under the sink.
I hung two more hooks just inside my pantry door to hold my bigger enviro cloth and polishing cloth.  I probably open my pantry 100 times per day, so that's a pretty handy spot for me.
Extra tip: hang these on the inside under sink cabinets in every bathroom so you always have a cloth available anytime you see a mess.
Thanks for reading, sharing, and/or pinning.  - Louisa, from NorthIdahoMade
---
5 comments